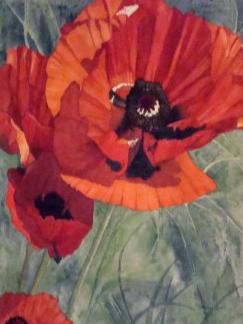 "Pepper Pot Poppy"
---
Through watercolor, I have found the perfect expression of my love of color. I began painting watercolors in the fall of 1998, after retirement from a career in education. I have experimented with several different styles of watercolor: realistic portrayals, floral samplers, impressionistic "plein air" paintings, and an abstracted "imargination" style. Though my florals seem to be popular, I also enjoy painting children, landscapes, and other facets of nature.
Patricia Flynn's watercolors can be seen at the following galleries:
The Coffee Gallery
17750 Fruitport Rd.
Spring Lake, MI 49456
616-850-9500
The Blue Heron Gallery
131 Ames Street
Elk Rapids, MI 49629
231-264-9210
Button - Petter Gallery
161 Blue Star Hwy.
Douglas, MI 49406
269-857-2175
2014 Notes of Interest
I have published a chronological guide to my paintings titled A Watercolor Journey. Click on the "MY BOOK" link above.
I continue to have my paintings with Arthur Frederick, owner of the Button-Petter Gallery in Douglas. This is probaly the largest and finest of the art galleries in Southwest Michigan, with nationally known artists. I am also with The Blue Heron Gallery in Elk Rapids.
I continue networking with Painting Pals on Wednesdays at the HAAC, an open painting workshop. In July, seven of us went to an Art Camp weekend at the Chief Lake cottages of Chris Bart--good times, with painting, eating, boating, chick flicks, and plenty fruit of the grape.
This same group of painting pals (nine of us) set up two booths for Hollands's "Art in the Park" art fair, August 2. A perfect day, good fun, and passable sales.
In Februry I had a painting, "Purple Passions" as part of the Top Twenty for the Tulip Time poster. These were unveiled at an event at Evergreen Commons.
The annual Friends of Art Tulip Time exhibit opened at the Arts Council in May; I entered "Magnolia Mystery" and "Iris Diptych"; the latter won second prize.
May brought the opening of the Muskegon Museum of Art's West Michigan Competition; my "Amalfi Cactus" was juried into the exhibit.
In June the Holland Friends of Art "Water" exhibit opened at the Arts Council. I had two paintings in this show, "Reflections on a Lily Pond" and "Bayou Beauties".
September brings the opening of the MI Arts Show at the Holland Area Arts Council, an annual juried competition. My painting "Chihooligan - Carnivale" will be included.
Chihuly's glass continues to be an inspiration. I visited his installation at the Phoenix Desert Botanical Garden in November and March. I also traveled to Seattle and visited the Chihuly Museum and Tacoma's Museum of Glass.
In August I took a two-day watercolor workshop with artist Sandy Meyer, fromn Coopersville; we worked on still lifes and landscapes, not my usual subject matter.
I continue to be involved with the Holland Area Arts Council, serving as president of the board of directors.